Mapler Ojiji's Log: January 5th 2007 (Continued)
Wow, two posts in one day eh? Ojiji's making up for all that lost time…
Anyway, here I am with my fellow maplers exploring the creepy regions on the outskirts of Zipangu. Why I agreed to follow Darkdg into this horrifyingly eerie place, is still a mystery…
I dislike life-like statues even more than foggy fog…
Seriously, they bring me into this haunting of a place and leave me stranded under a darkish tree which may have spiders in it, or worse…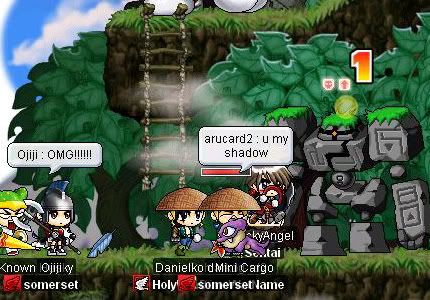 See, I knew we shouldn't have come here, Arucard's grammar is getting all screwy…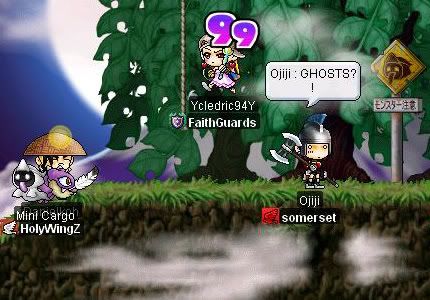 Oh yeah, you better believe it.
Sure, we'd like to change channels too but the darn ghosties are frolicking around and they keep slamming into our faces with their pink tongues wagging everywhere, how are we gonna change channel huh?! Tell me, how how? :P
Just when I thought things couldn't get any worse, out pops rancid-breath Randy.
Ew…somebody get some Colgate up here pronto!
Oh great Darkdg! NOW you say you wanna get outta here!
Well, creepy stuff aside, the scenery is pretty lovely, don't you think?
We finally made it back to Zipangu in one piece with memories we'd all like to forget :D
Much Love, Ojiji