Mapler Ojiji's Log: January 5th 2007
My fellow maplers! I'm sure most of you have already been to Zipangu, the beautiful Japanese Land of cutesy creatures and big-headed gangsters…
Couldn't believe that I was in Zipangu. So. Awesome.
Not convincing Perry…you have a McDonalds logo on your head, seems to me you like fast food…
Cool! They worship shrooms here! Wonder where the slime statue is…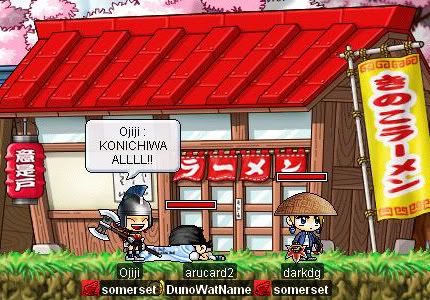 The shop houses here are just absolutely adorable! Take a gander at that roof, red Lego blocks!
Well, I bet it does, especially with the Yakuza…
Is this guy selling octopi or skin care products man?!
Ojiji's weakness, RAMEN. Blew a hole in my pocket.
*whispers* I tell you, these Japanese people say the weirdest things when they sell their stuff, what's with the "chest" statement? Is it supposed to be some kind of sick selling scheme?
Yes Kinokonoko, we know it's a musssshhhroooom shrine. *whispers* she had a bit too much Sake to drink I tell ya, look at that stoned look in her eyes…
Ah yes, Darkdg promised to be my tour guide around Zipangu!
Cool, they even got shades on.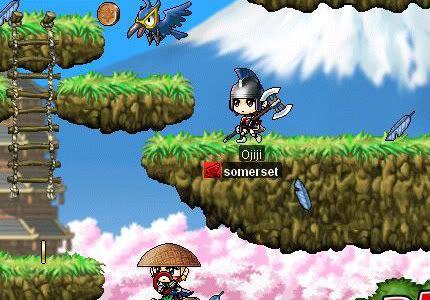 Wait, those aren't shades…they look more like the eye crusts you get when you wake up in the morning, ew…
Wow, massive sun burn…ouch.
Alrighty, that's all for this session. Stay tuned for more…
Much Love, Ojiji