Mapler Ojiji's Log: December 28th 2005
Terrorizing people has been something I've come to really enjoy doing besides training to become an almighty Spear woman / Dark Knight. Getting strange and wonderful reactions from maplers is definitely something worth anticipating for. But what if the tables are turned and I stopped the "terrorizing" and maplers place ME in an awkward and slightly traumatized position? Let's take a look shall we, in Perion, where there are freaky and most possible bi-polar maplers abound…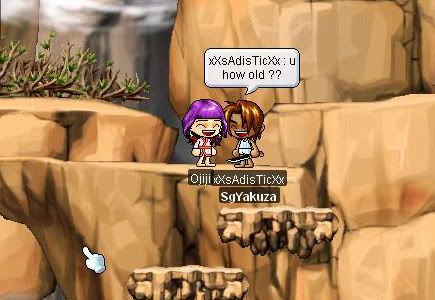 Ooooh, someones trying to pick me up!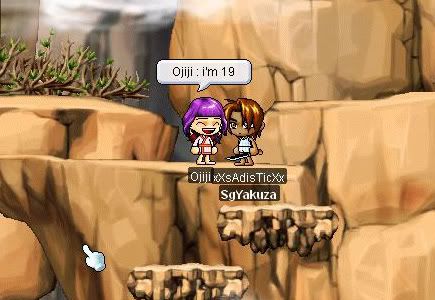 It's got to be this hot young teenage guy with boyish good looks and the smarts…
…or not.
Let's just scrap the whole idea about boyish good looks and the smarts shall we…
You can literally see the beads of sweat running down my purple hair.
*Has Seizure* That was simply odd and random, just like the next person I met in Perion. Little Bidama with his cute little beanie and adorable little neko…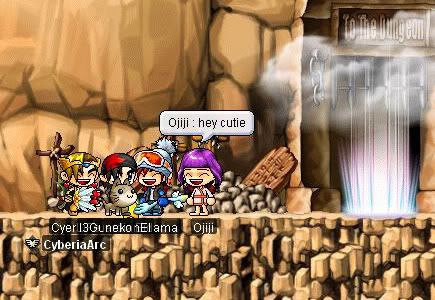 I was hitting on him at first, trying to start up some "lovin"
Now THOSE are EYES I'm willing to get lost in!
GORGEOUS!
The next couple of people didn't have freakishly huge and sparkly anime eyes but a rather interesting shade…of blue…
Oh and apparently, very confident of the colour of their skin, I don't sense any racial conflicts here, do you?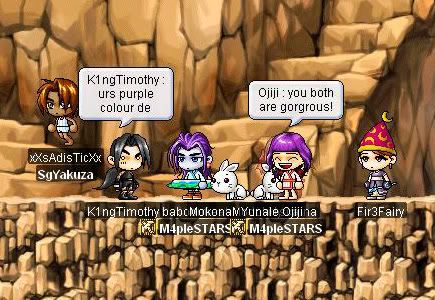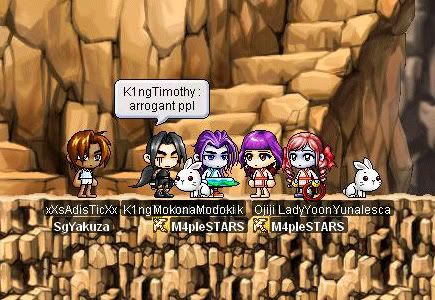 I guess not all people find confidence appealing.
They weren't aliens of course, Baboon Freak and Lady Yoon said they had actually decomposed, that's why they look they way they do. Well hey! If you can look this good dead in maple, bring it on! :D
Anyway, while chatting with King Timothy, Bidama came strolling by again! And with a tap of his key board, the eyes went flashing and both King Timothy and I were absolutely transfixed by it's digital beauty! *gleem gleem gleem*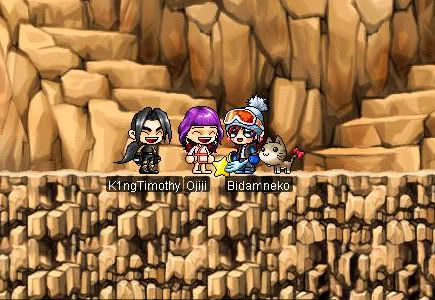 When King Timothy and myself were finally freed from the clasps of such beautiful eyes, he continued singing much praises about me. And as you know, me being the attention seeker I am and one who loves praises, I simply indulged in it…
*Bows elegantly and waves hand at mass audience*
Shortly after my lovely and eventful day in Perion, I decided to go for a haircut with CupidX. We made our way to heneseys and gave the little coupons to Brittany and within a second, Britt gave us radical hairstyles, she's one hell of a genius I have to say…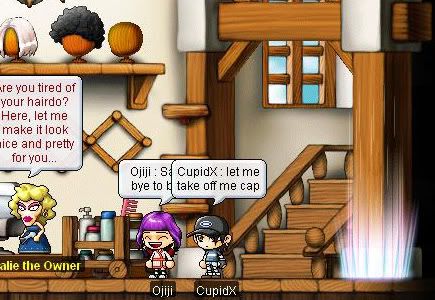 OMG OMG OMG!
Oooooooh, Cupid looks so cooooool! I felt so happy after our hair cuts that I just had to hit on him, just once :D
Anyway, that's all the Halabaloo I have for you. Till next time, keep mapling :)
Much Love, Ojiji