Mapler Ojiji's Log: November 16th 2005
While traveling around Victoria island, I again bumped into numerous interesting individuals. One of them was a friendly and hyper Fire mage called Chicken Nugget, we had actually met before in maple, just that my poor memory did not allow me to re-call who he was! Anyway, we decided to train together and here he is using his bunny to promote my blog, isn't that just adorable!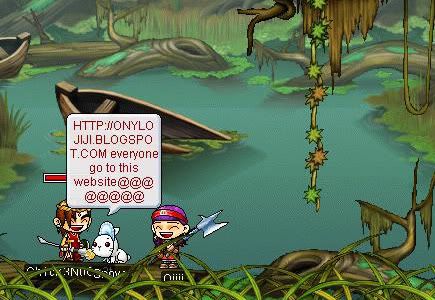 Now, that's what I call good pet training. Meanwhile, as we were busy whacking Ligators and just having a good time…
This imbecile stepped in and pushed Chicken Nugget to the ground! I of course found that extremely rude of him and confronted the brute of a mapler…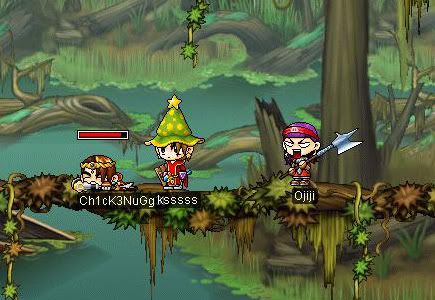 He then started wimping out and began crying which in turn made all of us cry (I'm rather sensitive you know…)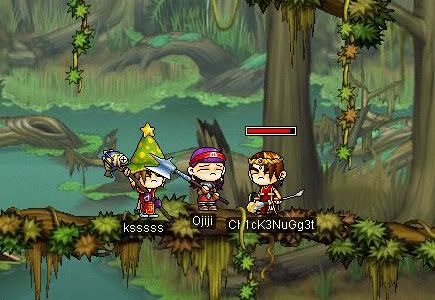 And wouldn't you know it! As he was trying to gain pity from us, he pushed Chicken Nugget to the ground again but this time Chicken Nugget pulled him down as well, causing both of them to fall! By that time, I was pretty pissed off, so I threatened to fight him so that he would go away.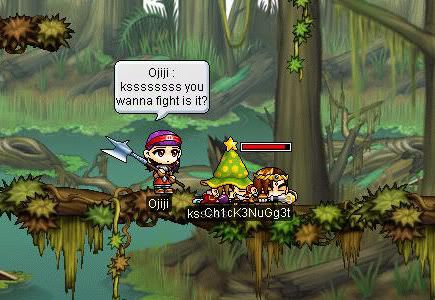 The first attack!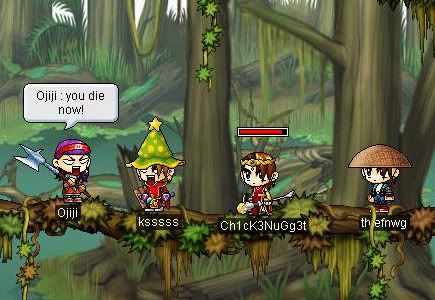 The counter attack!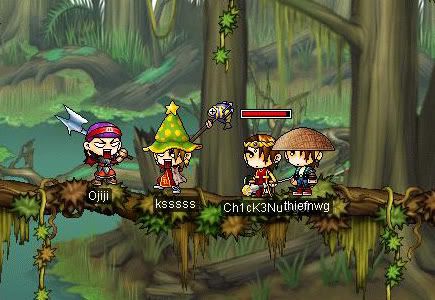 (The rest of the screenshots have been taken off due to its graphic and highly violent nature.)
Anyway, I decided to ignore Ksssss since the fight was going nowhere BUT he started harassing me and calling me names!
Wow, check out how he spelled lesbian. That's one major numbskull. But besides being rude and obnoxious, that ksssss was just plain annoying. It's people like him that make Maple an awful place to live and train in.
Well, on to happier and more significant events. I met a ghost while strolling around kerning! No, it's not that mysterious lady in Dr Naora's clinic. This ghost had long black straggly hair and a white robe! At first I was pretty freaked out…
And then I started to get really frightened and nervous…
But turns out, once I started talking to her, she wasn't so bad! In fact she was humorous and friendly and down right adorable!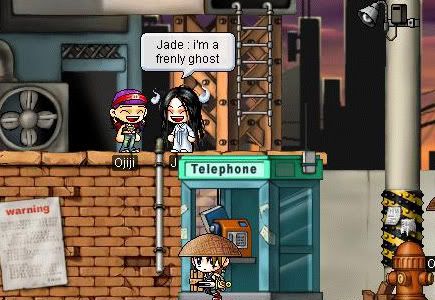 Apparently though, not everyone thinks so…
So, I know you guys know about my history and where I came from et cetera but I never mentioned anything about where I lived presently and how my house looks like and all that jazz. I want to take this opportunity to show you all my houses in the different towns of Victoria island and hopefully you'll show me yours one day. Let's start with my home in Lith harbour…
I had always wanted a home near the sea and this particular location had a wonderful view of the ocean surrounding Victoria Island. Also, the blue dome shaped roof really added that nautical touch that I loved so much.
The next home is in henesys…
I don't usually stay in my Henesys home since I hardly travel to Henesys but when I do, I really love to lounge in the garden and pick carrots to sell at the Henesys market, it's rather therapeutic. The house is pretty small compared to my Lith home but it is extremely cozy, don't you love the leaf and bead curtains at the main door? Certainly adds that earthy touch.
My third home is in Kerning…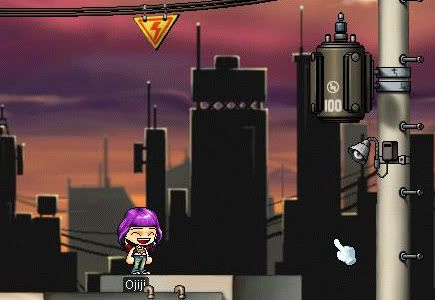 I spend almost as much time in my Kerning home as I do at my Perion one because I just love the city life. My kerning apartment is the one in sillouette with the round windows. It's pretty spacious and modern and has a great view of the Setting sun.
And here's where I lived as a child…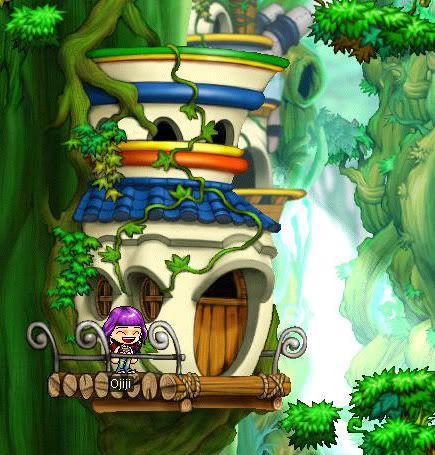 Isn't it simply gorgeous? The three windows at the top floor were where my sisters and I slept. The first window on the far left was my room, the middle was Oshea's and the third was Oriri's. The house looks fairly small from the outside but the rooms actually extend all the way into the trunk of the tree that the house is attached to. My parents were in Ossyria on a business trip so I couldn't take any photos with them, oh well maybe next time.
Anyway, here's my home in Perion…
My tent is the one with the horses at the far left. Ancient Perionians used to be nomads, so their traditional home was always a tent which can be moved around. However, as the years went by, Perionians found a place they could finally settle in but tents are still used presently. Alright, that's all the homes I have!
But before I go, here's a cutie I met while in Sleepywood…
He he he…thought I lost my perverted touch eh? Don't worry, I'm still swooning!
Much Love, Ojiji